Rubber On The Road
Canucks goaltending tandem Demko & Markstrom have performed some of the league's best work in the net this season. To celebrate and cheer them on as they head to Eastern Canada this February, Kal Tire is giving one lucky fan an incredible prize package.

To enter, predict how many total saves the Canucks goalies will make on their three away games on Feb. 25th, 27th, and 29th.

If you guess correctly, and you have a chance to win 4 Canucks tickets plus a Kal Tire 'Pride in Your Ride' package!


January 24, 2020 9:00am PT
February 24, 2020 11:55pm PT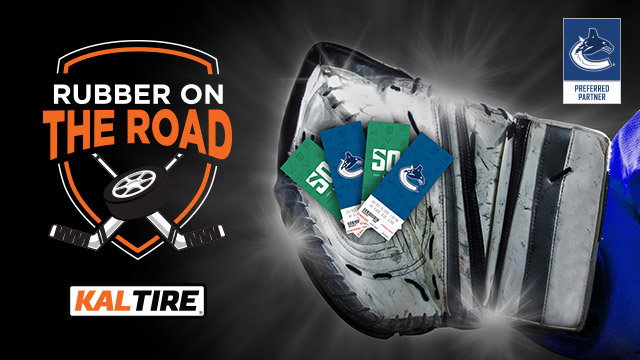 1 'Pride in your Ride' Kal Tire package + 4 lower bowl Canucks tickets to the March 25th game vs. the San Jose Sharks
Kal Tire Pride in Your Ride total vehicle package, including:
• $2,000 Kal Tire gift certificate good for any products and/or services Kal Tire offers
• $100 gas card
• Oil changes for a year courtesy of Pennzoil
• Car wash punch pass for five washes
• Emergency roadside kit

Entrants must be a resident of British Columbia, and at least 19 years of age